3 Companies Growing by Embracing Remote-Work
It seems like the idea of working remotely is a fairly new concept, and in a way it is. Companies have been organizing remote-based teams for a long time, but only recently have companies began fully organizing their workforce based on this idea. As technology allows distributed teams to connect, communicate and collaborate in a more streamlined way, we enter a new world where companies powered by remote-teams become way more mainstream than ever before.
But what does it mean to be "remote-powered"? It's not as simple as letting your staff work in their pyjamas from the comfort of their home, it's much deeper than that. Building a company remotely is a delicate process, it's vital to take the proper steps to do it right. It requires that there's still some semblance of company culture, or giving everybody a say in the development of a product. There are always different factors to consider when adopting a remote model for your startup.
Let's go ahead and take a look at some companies who are 'doing remote right'. These companies have successfully built their entire framework around the idea of remote work, and they are using it to grow faster than ever and establish themselves as market-leaders.
DuckDuckGo
DuckDuckGo is interesting, they are taking something ingrained in our lives - a search engine, and adapting it to prioritize privacy rather than personalized search queries. Competing with Google is undoubtedly impressive, but it's equally remarkable that they do this with fully remote teams.
Building a cutting-edge online business such as this requires a lot of forward-thinking, both with how you develop your product and build your team remotely. DuckDuckGo seems like a perfect example of remote done right, by combining the convenience of remote work with the benefits and perks of a traditional full-time job they truly stand out as a phenomenal remote employer.
Developing and maintaining a positive, consistent company culture seems to be a priority for DuckDuckGo. They go out of their way to ensure that their core values are clear and consistent, making sure their team is on the same page, rewarding behaviour that is in-line with their ideals as a company. They detail in a blog post how they use fun activities and events to maintain a positive and constructive work-culture while being remote:
"We also have a shared set of cultural icons, activities, and events such as sharing GIFs, quarterly Hack Days, Low Hanging Fruit Days, and Organizational Days, and our Green Bow Tie award (a weekly employee award for going above and beyond that is passed on from the previous winner)."
Establishing a defined culture is vital when building a company remotely. Whether it's having clear values, ensuring your employee's voices are heard, it all builds towards having a team that enjoys the work they do. Positivity and productivity go hand in hand. Keep your remote team engaged in your companies core values and they will be happy to work better for you.
Check out their careers page: https://duckduckgo.com/hiring/
Zapier
(Zapiers entire distributed team in one picture really puts their size into perspective)
When discussing automation software, Zapier often comes to mind before any other platforms. It makes sense, a firm commitment to user-friendly automation and flexibility with software integrations makes them stand out as a flagship company in their space. There's something to be said about Zapier, they make something as complicated as automation remarkably easy - and do so with a remote-based team.
Zapier takes remote seriously, integrating the idea into its operations by employing over 200 people across a large handful of countries. They even wrote a book about doing remote right. Simply put, Zapier is a thought leader in this space and should be considered heavily when seeking inspiration on building a remote-powered team. A lot of information and guidance that Zapier offers for building remote-teams leans towards positive open-ended communication, utilizing the right tools to collaborate and sourcing talent that fits into the structure of your distributed workforce.
Respecting your digital employees is paramount for things to run smoothly, allowing them to manage their time in a way that makes sense for them is necessary for this. Zapier dove into ways to prevent burnout when working remotely in their book, here's one great example from a remote worker:
"I've worked remotely from my house now for 7 years and the one thing that I try to do consistently—and sometimes it's really hard—is keep office hours (between 8 and 6). It has kept me disciplined and over time my colleagues have been able to learn what my hours are, too."
-Rachel Muircroft
As a fantastic example of a company using the power of remote-work, Zapier goes out of their way to give their workers flexibility with how they shape their workdays. Following a philosophy that allows teams to choose their own hours is important for building a team remotely, but encouraging them to do so in a way that is productive and disciplined is a perfect way to promote mutual respect between employer and employee.
We wrote in-depth about ways to foster a healthy remote-work environment here.
Ad Hoc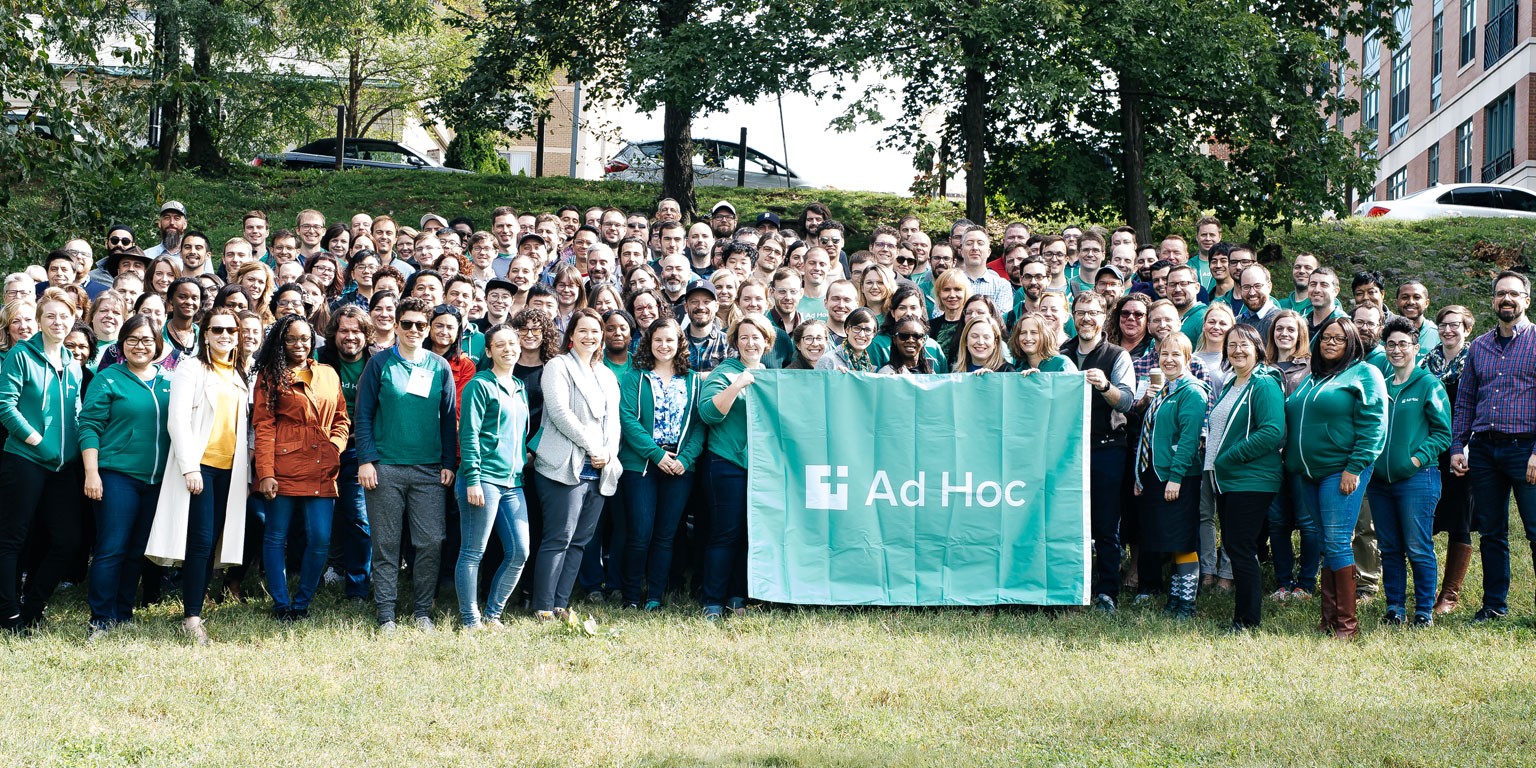 Creating a company and building a team remotely is one thing, but to be "remote-first" and build it from the ground up using remote work as a vital aspect of your business model is innovative. That's exactly what Ad Hoc does with its remote-based software-house that specializes in digital services for government agencies. They go out of their way to utilize the advantages of remote-teams to their full potential, recognizing that it's easier to source teams of talent if geographical restrictions are not a factor.
By integrating remote into their business from day-one, Ad Hoc has allowed themselves to have a clear path to success through the flexibility, results-based work, and diversity in teams that are fundamental to this way of organizing your team. Where some people see challenges in building a company in this way, Ad Hoc saw the benefits of using remote-work as a fundamental aspect of their company.
It's easier said than done, right? So how did Ad Hoc build their company on a remote-first model? They say finding people who work well in remote-conditions is vital. They go out of their way in their written content to dispel any worries that plague those who want to work remote, but are afraid it's not right for them. Encouraging their remote employees to nurture their social life through organic, and inorganic means is important to Ad Hoc. Let's take a look at a tool they have integrated into their workflow to accomplish this:
"Hey Buddy" random 1:1 calls. We have an opt-in slackbot that will pair you with a random Ad Hoc employee every week. The program helps facilitate interaction between people that wouldn't otherwise meet"
Ad Hoc uses methods to allow their internal organization to be empowered by a remote-setting rather than hindered, this is certainly something to strive for when building a company using the remote-first model. They are hiring by the way, check out their careers page.
In the coming years, more companies utilizing the power of remote to their advantage will emerge and disrupt industries. Why not try to be one of them? Trio provides services for scaling up a remote-based team in a streamlined way, so you can focus on building your product. Connect with us today to make your remote-powered startup a reality: https://trio.dev/start